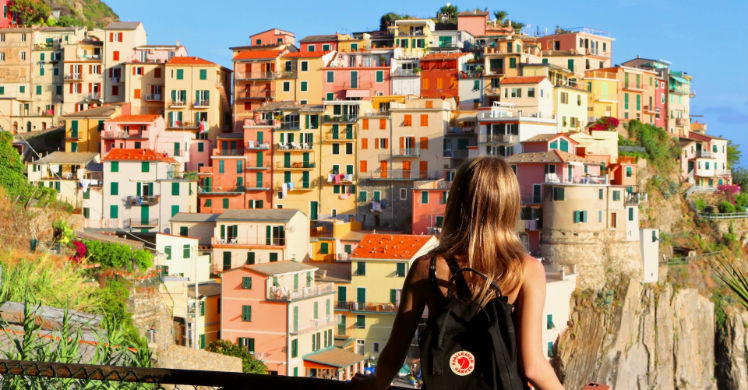 Meeting ladyboys in Italy
Italy is a beautiful place to visit and live in. With its history, architecture, culture and people, it's a place that anyone can easily fall in love with. It may even be the place where you find your ladyboy love.
Compared to other European countries, Italy is one of the more conservative nations when it comes to the LGBT community because of its roots in religion. There is a slight stigma when it comes to dating ladyboys here due to religious fanaticism but aside from the super conservative who are against it, LGBT relationships are not illegal here.
In fact, in ancient Roman history, sexual relations between two men was socially acceptable in the community and it was expected that men had relationships with both men and women. Some men would have a wife and several male lovers so it was not an unfamiliar concept of love in Italy. Julius Caesar was known for having relations with men too.
In recent years Italy has taken steps towards being a more tolerant and accepting country. As of June 2016, same-sex civil unions and unregistered cohabitation have been legally recognised. Transsexuals have been allowed to legally change their gender since the early 1980s, and the government is slowly making its way towards building a more progressive nation when it comes to laws that benefit trans people.
A significant part of the trans population in Italy is made up of Brazilian trans women immigrants. Some of them have moved to Italy for a better life and others are involved in Italy's underground culture working as sex workers. But on the whole, most of the trans women who are very open about their gender identity come from Brazil.
If you're a man looking for a serious relationship with an Italian ladyboy, you have to be ready to date someone who is patient and persevering. These traits are important for a lasting relationship. Italian ladyboys are also resilient – having the courage to be themselves in a community where they are judged can make them have a strong character.
Dating ideas when you are with your Italian ladyboy
Even though Italy is a bit conservative, dating trans women in cities like Rome, Milan, Naples and Turin can still be beautiful and magical. You just have to find the right person to make memories with in this beautiful country. Here are some of the spots we recommend you go to if you're in Italy.
Rome
Rome is somewhat conservative compared to other Italian cities but it is also a very romantic place to date. Though this city has some famous spots to visit and a lot of tourists flock here, we recommend that you try doing something different by going to the less popular attractions.
One place you can bring your ladyboy date is the Coppede District. The surrealist artist, Gaudi, created stunning architectural designs which are amazing to behold and it's a great place for taking lovely pictures. Another great place to go to is the Parco degli Acquedotti, or the Aqueduct Park, where you and your date could marvel at the structure that was vital for bringing fresh water to the people of Ancient Rome. You can bring a picnic basket and a blanket where you and your ladyboy date can spend the afternoon relaxing and staying away from the hustle and bustle of the busy city.
Milan
Compared to the other cities in Rome, Milan is a beautiful place where the people are more accepting and tolerant of the LGBT community. In fact, several LGBT clubs have sprouted in parts of the city.
One of the best things you can do in Milan is watch the Opera and what better place to do that than Teatro Alla Scalla, one of the oldest and best Opera houses in Europe. It has beautiful crimson and gold interiors that add a romantic feeling to the evening. Coupled with really good music, then you've got the perfect date night. Just make sure to book your tickets ahead of time so you and your date can reserve seats.
Cacina Cuccagna is fondly named Milan's mini countryside. They have a quaint yet beautiful garden, a restaurant and bar, guest houses and even a market. It's the perfect place to spend an afternoon. They even have activities like yoga and carpentry which you can do with your ladyboy date.
Naples
For the outdoorsy couple, Naples is home to Mount Vesuvius, where both of you can do a 30 minute hike to the top. The caldera and the crater are beautiful but before you go there, make sure you check the status of the volcano. It's open to beginners and the view is worth the climb.
After your hike, you can take your ladyboy date to Naples' famous pizzeria, L'Antica Pizzeria da Michele, right in the heart of Naples. Customers can opt for either a margherita or a marinara pizza. Though these pizzas have really basic ingredients, the way it's prepared in a wood-fired oven will have you and your date falling in love with the pizza (and with each other too).
Turin
For history lovers, two lovely museums you can go to with your ladyboy date are Museo Egizeo, or the Egyptian Museum, and the National Cinema Museum. They have very informative tours that can take you on a blast to the past, creating very good topics for discussion on your date. Continuing on your history-related adventure, you can take your ladyboy date to one of the historic cafes of Turin.
One such cafe is Al Bicerin, where they serve the Turinese drink called Bicerin made by Alexandre Dumas, the French writer known for writing The Three Musketeers and The Count of Monte Cristo. The drink is made of espresso, hot bitter chocolate and whipped cream, carefully layered and served in a small rounded glass. It's the perfect way to spend the afternoon, sipping on Bicerin while having conversations about the museums you went to.
Why My Ladyboy Date is the best dating site
My Ladyboy Date was founded on the idea of a dating platform for trans women finding men who are looking for serious relationships. Our site was created and is managed by transsexual women which is why we are aware of the challenges that ladyboys (and men who like them) are facing.
We have very strict policies regarding scammers, spammers and opportunists and our moderation team works 24/7 to review profiles of all our members so we can remove the ones that do not pass our screening.
We pride ourselves on being different since we do not promote one night stands here. Our members on My Ladyboy Date are here for real dating and we want to help them find the relationship of their dreams. Since 2013, we have received emails from previous members telling us they found love on our site and we hope that you will be the next one to find happiness here. Sign up with us now and find your one true love in Italy!