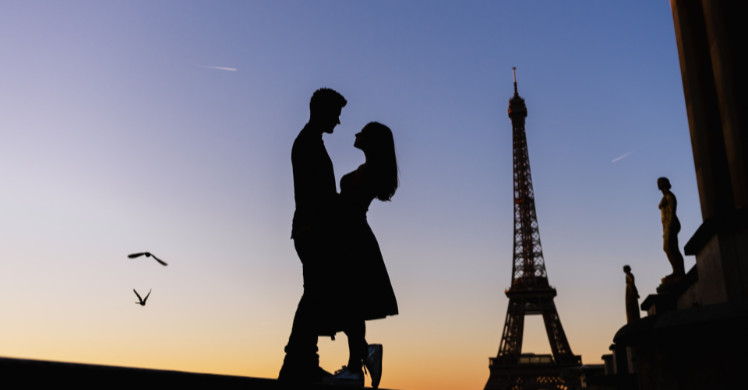 Meeting ladyboys in France
Aside from its beautiful architecture, lovely museums and amazing tourist destinations, France is known for being the most romantic place on earth. When you travel or live in France, you will experience its amazing culture, cuisine and the simple yet charming way of life that the French practice on a daily basis. The country is not the only thing you will fall in love with though because with the air of romance everywhere, you're bound to meet the love of your life here.
The term ladyboy is not appreciated by everyone. We use it on this page for educational purposes. For a detailed explanation, please read our dedicated page on the term "ladyboy".
France is known to be socially liberal when it comes to transsexual rights. It is noteworthy that transsexual people in France can be open about their gender identity and sexual preference without suffering discrimination for it. Though there is still a minority of the population who are conservative when it comes to LGBT rights, the majority of the French population are very liberal and do not oppose the LGBT community. One notable milestone in French history is the removal of transsexualism from the list of mental disorders as they became the first country in the world to do this.
Since France is very progressive, you'll find that people will not judge you for dating ladyboys even in the big cities like Paris, Marseille, Lyon and Toulouse. People are very open to all kinds of relationships here and you will find that France is one of the most tolerant and accepting countries in Europe.
Dating ideas when you are with your French ladyboy
Each big city in France has its own unique appeal but one thing is for certain and that is the aura of romance each city brings. Here are some of the things we suggest you do when you're in town with your ladyboy date.
Lyon
How about some sweets for your sweetheart? Having a date at a cafe with the best pastries in the city couldn't be any sweeter. You can take your ladyboy date to Boulangerie du Palais where you both can enjoy the most delicious pastries such as pralines, brioches and tarts.
Other places you can take your ladyboy date in this city are Bar Le Melhor and The Monkey Club where you can try out Lyon's famous wine, Beaujolais nouveau. This city will definitely give you the perfect gastronomical experience to not only fatten up your stomachs but your hearts too.
Marseille
In 2017, Marseille was regarded as one of the top 100 LGBT-friendly cities in the world due to its active LGBT community. In fact, Marseille was even chosen in 2013 to be the location for Europride. So if you're in the city with your ladyboy date, you'll find that there are many activities you can do here and many safe places you can date.
For the adventurous and athletic couple, why not try having a day out at the Calanques National Park? This park has a variety of activities you can do such as swimming, kayaking, rock climbing and hiking. You can also go to Le Cours Julien to take amazing pictures of the street art. It's the perfect place to make memories by having a small photoshoot with your date.
Paris
Paris, the city of love. You will never run out of places for dates here as the list of activities just goes on and on. There are several museums and monuments you can visit. However, it's also best to do something unique in this city such as watching a vintage film. The perfect place for this is Studio 28 where they host classic cinematic films. When you step into the theater, the interiors will make you feel like you went back in time to the age of black and white film.
One of the most romantic things you can also do is find a nice rooftop taking in the view of the city. You can set up a table during the evening where you can have dinner by candlelight while sipping on the best wine France has to offer. Though the idea might be simple, you are bound to have your date swooning at this small yet intimate date.
Toulouse
For history lovers, Toulouse has many different beautiful sights that will take you on a blast to the past. One such place is Cordes-sur-Ciel, where inside it has cobblestone streets and picturesque areas perfect for a leisurely afternoon or evening stroll. There are also several shops in the area that sell jewelry, custom-made artwork and ceramics if you're looking to gift something as a way your date can remember you.
If you're planning on going on a dinner date in Toulouse, Le Cantou is a gorgeous restaurant with a beautiful outdoor garden. The place has an excellent wine collection and serves dishes that are beautifully plated. You can take a stroll around the garden after dinner for that romantic ending to a beautiful evening.
What separates My Ladyboy Date from the rest
Dating is never easy and most of the time it's more challenging for ladyboys. Most of the time ladyboys are fetishised or not taken seriously. This culture is so common among the community that a lot of times they are mistaken for not wanting serious relationships. But that isn't true. Many ladyboys do want serious relationships and that is why My Ladyboy Date was founded in 2013.
The team behind our dating site knows the challenges that ladyboys and the gentlemen who love them face when it comes to dating. Oftentimes, ladyboys are seen as a one-time fantasy or a fetish. The gentlemen who love them also have a hard time finding the right ladyboy who wants to be in a committed and lasting relationship. We guarantee that if you look through our site, you will see tons of other members who are looking for their one true love.
Our site does not promote one night stands and this is why we are different from other dating sites. And we have a strict screening process to ensure that the people who sign up at My Ladyboy Date are real people looking for real relationships. Sign up now at My Ladyboy Date to start your journey in finding your one true love only in France!