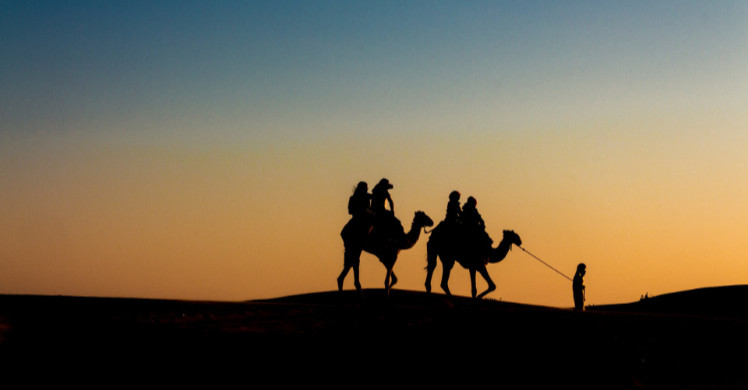 Meeting ladyboys in the Middle East
Middle Eastern countries are usually very conservative when it comes to issues and rights regarding the LGBT community due to their religious backgrounds. This may make it a bit challenging for ladyboys to be open about their identity due to the discrimination that they face, which often is a threat to their daily lives. Though it is challenging to date ladyboys in this part of the world, it is not impossible to find the love of your life here.
The term ladyboy is not appreciated by everyone. We use it on this page for educational purposes. For a detailed explanation, please read our dedicated page on the term "ladyboy".
In some countries like Oman, Egypt and Qatar, homosexual activity is illegal and can be punishable by imprisonment if caught. But there are also some other countries where homosexual relations are not illegal, however, are still discouraged. Countries like Dubai, Bahrain and Lebanon allow different sexual orientations, but culture and religion still somehow play a part in keeping homosexual relations taboo.
There are ladyboys that do live openly as women among people they trust. Often they have to cover themselves up in clothing that would hide their femininity or to avoid questions from the authorities. A large population of ladyboys in the Middle East also come from countries like the Philippines, Thailand, Russia, Canada and India. There are countries like Iran that do have strict gender binary rules, so those who are questioning their gender identity or sexual preference are recommended to have gender reassignment surgery to avoid being persecuted by the government.
There are also safe spaces where you can date in some of these countries where the LGBT community can meet and mingle, though these are very rare. Some Middle Eastern countries still have a long way to go in the fight for LGBT rights. So if you're planning to date a ladyboy from the Middle East, you have to be optimistic about finding the one because he or she is out there for you. That's why My Ladyboy Date is here to help you on your quest for love.
My Ladyboy Date is a guaranteed safe space for dating in the Middle East
It might be difficult to meet up with ladyboys by chance in the Middle East. So your best bet to find your one true love is by signing up with My Ladyboy Date. We guarantee that our dating platform is a safe space where you can find, meet and get to know your ladyboy date.
If you're a ladyboy living in the Middle East, you'll find that the members on our website are real men trying to find love and be in long-term relationships. Through My Ladyboy Date, you will find that meeting a respectful and decent partner will only be a click away. So even though you live in a country that limits your interactions and rights outside of the internet, My Ladyboy Date will be your window of opportunity for real love.
Safety tips when dating in the Middle East
Since there are still countries that don't welcome the idea of trans relationships or the rights of trans women, it's best to keep these guidelines in mind when you're living in or travelling to Middle Eastern countries. Remember that you're still in a place where the way of life is quite restricted for LGBT individuals, so try to keep these tips in mind to avoid trouble.
Keep your relationship low key
The unwritten rule in Middle Eastern countries is if you don't get caught, then you won't get in trouble. Though there are a lot of penal codes against homosexual acts, the authorities will need proof of the relationship unless caught in the act. So it's best to keep your relationship low key. As much as possible, only tell the people you really trust. There are countries with consequences such as imprisonment and death depending on the act committed.
Public displays of affection are discouraged
Since Middle Eastern countries are predominantly Muslim, it is recommended that public displays of affection are kept at a minimum. Regardless of whether you're a heterosexual or homosexual couple, there are some countries that discourage even an act as simple as holding hands. So anything more than that might be offensive to those around you, so as much as possible keep the PDA at a minimum.
Be careful of undercover police or the authorities
In countries where LGBT relations are illegal, the authorities can be quite strict and might even go undercover so they can observe those who are not abiding by the law. Be careful when you're in public and keep your social media guarded as this can be monitored by the government of the country you are in.
Make sure your appearance is consistent with your documents
In most Middle Eastern countries, they discriminate against transsexual people. So if your documents state that you are male, it is recommended not to cross dress as immigration might choose to deny you entry.
Be extra careful in private areas
Even if you are in the safety of your own home or car, you should be careful. As much as possible, if you are living together with your significant other or your ladyboy date and no one complains about it then it is not a crime. However, if someone complains about your relationship and decides to take you to the authorities, this can cause serious trouble.
Why My Ladyboy Date is the best trans dating site
My Ladyboy Date prides itself on being different from other dating sites because we do not promote one night stands here. Our team makes sure to adhere to strict policies regarding people with ill-intentions like scammers and we work 24/7 to review profiles of all our members to make sure that they are real people looking for true love and lasting relationships.
Since our site was founded in 2013, we have received news from different members all over the world that they have found the love of their lives here on the site and we hope that you'll be the next one to find your happiness here. Being in the conservative Middle East will not stop you from finding love if you have My Ladyboy Date. So sign up with us and start your journey now!