Marc & Lorren … their success story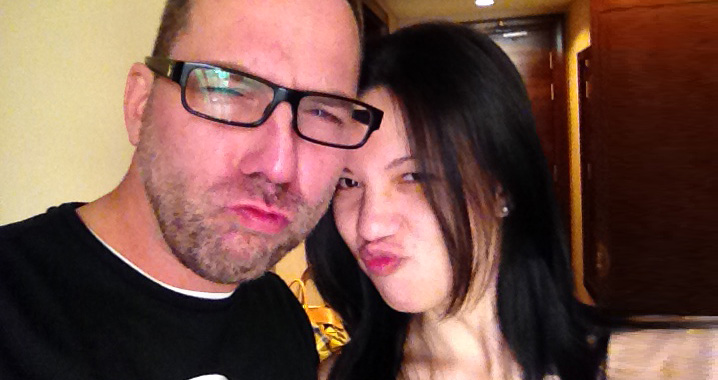 Marc (German man living in Australia) and Lorren (Philippines) met on My Ladyboy Date in November 2013, they met for the first time the month after, and are now officially a couple! Lorren plans to visit Marc in Melbourne in March. We bet they're counting the days!

Marc, Australia
I am excited to endorse this site because it worked so well for me. Immediately after I joined I got messages from many ladyboys, and subsequently had some really nice conversations with these beautiful girls.

I started talking more to this girl name Lorren and we hit it off straight away. Over the next two weeks Lorren and I got to know each other and things really started to develop. She seemed too good to be true, so I was quite apprehensive at first whether this was real. After talking some more to this lovely ladyboy I threw caution to the wind and just went for it: I bought a ticket to the Philippines to meet her in person.

When I finally met her at the airport I was awestruck: she was all I imagined and much much more. Over the next two weeks we enjoyed a wonderful time together, and at the end I asked her to be my girl. Luckily she said yes and we have been together since. It's been over a month and I couldn't be happier. Soon she is coming to visit me in Melbourne.

I can wholeheartedly recommend this site as a way to find that special ladyboy. It worked for me, and I believe this is no accident. Myladyboydate really brings together transgender girls with men who love them, and does so in a classy way. I am very happy to endorse this site, and I want to thank the owner Simon and his girlfriend Maki - a transgender couple themselves - for doing a tremendous service to the community.

Lorren, Philippines
The first thing that comes to mind about the idea of dating for me would be: exhilarating. At first sure, but after some time it gets exhausting, especially if you are just really trying hard to find "the one".

I was here and there trying different dating sites for ladyboys hoping that the next guy who'd chat me up would be someone I have dreamed of being with. Then I came upon myladyboydate's site, but by then I was just looking around, because one can never live in a fantasy forever that there's someone out there for each of us. It's just too tiring and I have a life, so I can't be consumed by all these fantasies.

Then there was this geeky German guy whom I started exchanging messages with. He was very persuasive and wouldn't stop telling me that he wouldn't give up, and I was like "up to you", but every night that we'd talk I just noticed that our conversations were getting longer and longer. I started thinking "hmmmm, what the heck, I'm getting hooked! He's smart too! I'll just enjoy, whatever."

Then one day he surprised me about this plan of him visiting me here in the Philippines, and of course at first I thought "sure let's fuck," though he wouldn't stop telling me things like "I really like you." So the day came that he arrived and I went to pick him up at the airport. I was awed: he's tall, good-looking, and everything. From then I just gave in and fell in love with this German bloke named Marc.

Next month I'm visiting him in Melbourne and I get to see his son! Really looking forward to seeing my irog again. Now, having said all of that, there's no doubt myladyboydate worked pretty good. So, all you lovely people, enjoy this fabulous site, mingle and don't stress yourself looking for "the one!" Have fun instead, who knows, maybe the guy or gal you're exchanging messages with is "your special someone".
Our best wishes to the lovely couple! ❤️💜💙
---
Want to live your own success story?
Build your profile and start dating now!
Tell us your story
We'd love to hear from you! There is nothing more rewarding for us than reading your success stories.
You are the living proof that love really knows no gender. And it's so inspiring for the singles.
Tell us your story