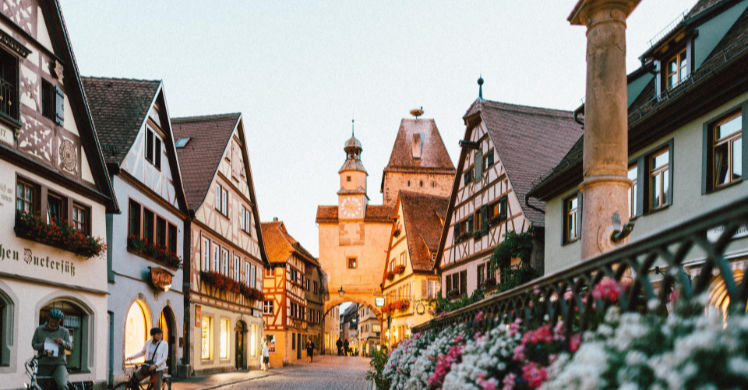 Meeting ladyboys in Germany
Germany, known for being one of the world's superpowers, boasts of its beautiful scenery, culture and people. Over the past few decades, Germany's open-mindedness, tolerance and respect for the LGBT community has grown significantly. Currently, it's one of the most progressive countries in Europe and you will be glad to know that in the fields of employment, goods and services, education and health services, discrimination on the basis of sexual orientation or gender identity is illegal throughout the country.
The term ladyboy is not appreciated by everyone. We use it on this page for educational purposes. For a detailed explanation, please read our dedicated page on the term "ladyboy".
Since Germany is a very progressive country, it allows its citizens rights such as same-sex marriage, changing of legal gender, gender reassignment surgery and other freedoms. Germany was also hailed for allowing Kim Petras, the youngest transsexual girl to have gender reassignment surgery at the age of 16.
Germany is also one of the few countries to have started transgender research in the early 1970s. Since this country is very open, you'll find that finding love and romance with your ladyboy date is highly possible here. Even in big cities like Berlin, Munich, Hamburg and Cologne, LGBT couples are not discriminated against as much compared to other Western countries.
Dating ideas when you are with your German Ladyboy
Each big city in Germany has its own appeal and knowing where to take your date when you're in these places can leave you with a good impression and great memories that can last a lifetime. With its amazing scenery, you will never run out of places to go to in Germany. Here are some ideas for what you can do when you're in each big city.
Berlin
The waterfall at Viktoriapark is one of the most beautiful places you could bring your date. It's a man-made wonder that's guaranteed to awe and delight couples who want a pleasant afternoon at this picturesque attraction. There's a small grassy area in front of the park where you and your ladyboy date can spend an hour or two. It's the perfect place to read a book while lying on a picnic blanket with the serene sound of trickling water in the background.
Another place to go to is Straussee which is 19 km away from Berlin but is worth the travel. It's a small town with a charming atmosphere that's going to bring out the romantic side in anybody. This place is great for a weekend stay where you can spend all day hiking, swimming and enjoying the great outdoors.
Munich
The Romantic Road isn't named as such for nothing. This route is actually a beautiful trip through the forests of Bavaria and Baden-Württemberg. If you get to book a trip here with your ladyboy date, you're sure to be captivated by the countryside with castles and quaint little villages here and there. It's a full day experience that also lets you tour one of Germany's oldest fortifications, Hamburg Castle, well-suited for that special princess in your life.
Another place you may want to take your ladyboy date if you want to stay in the city is Nymphenburg Palace. With its rococo interiors and marvellous palace gardens, it will definitely take your breath away.
Hamburg
If you want to have a unique experience together, one of the places you can go to in Hamburg is Miniatur Wunderland. It's the world's largest model train exhibit where you can see miniature recreations of Hamburg and the coast, Austria, the Grand Canyon and Scandinavia. You'll get to see miniature trains going around these places and it's perfect for couples who want to try something new.
You could also go on a sweet date by bringing your date to Chocoversum by Hachez which is a Chocolate Museum. This is the perfect place for the chocoholics because here it's a celebration of chocolate tasting and snacking. You can even create your own chocolate bar together for you to bring home. This place will surely leave you with a lot of sweet memories.
Cologne
One of the best places you can bring your date if you want to include a little bit of history in your experience is Dom Museum in Cologne. But we recommend that you go down to the basement of the Cathedral where they keep beautiful tapestries and jewels. It's a quiet place where couples get to have a reflective time together while looking at all the amazing historical artefacts.
You can also go on a date at the Kölner Philharmonie where you can be swept away by the romantic music of the Kölner Philharmonic orchestra. They hold concerts there ranging from soloists, choirs and full orchestra pieces. There is music for all tastes and the interiors of the auditorium are sure to wow you too. It's the perfect place for an evening date after dinner. Don't forget to book your seats in advance!
This is why you should choose My Ladyboy Date
Trans women often find it difficult to date because they are often stereotyped as not wanting to commit or just wanting to casually date. But that is not the case for all. Many single ladyboys actually want to find loving, respectful and decent relationships. That's why in 2013, My Ladyboy Date was created to give a space for ladyboys and gentlemen who admire them to meet and mingle. We pride ourselves in being the best trans dating site, having helped many couples get together since our site was founded. These couples continue to be in loving and long-lasting relationships, which could be your dream.
But we can make your dream a reality here at My Ladyboy Date. Our team, which is mostly composed of trans women, knows the challenge of online dating. Spammers and scammers can often take advantage of gentlemen who want real love. And ladyboys are often subjected to being fetishised. Here at My Ladyboy Date, our team screens our members to ensure that you only meet real people whose purpose is to meet the love of their lives.
We believe that dating is for everyone and should be fun and easy. Your soulmate might just be a click away. Sign up now to find the love of your life in Germany!